About Precision Panelwork
Our repair technician's regularly attend I-Car training courses to keep up to date with the latest repair techniques.
I-CAR'S mission is to research, develop, and deliver quality technical education programmes related to collision repair; to raise the level of available knowledge and recognise professional achievement; and to thereby improve communication throughout the collision repair, insurance, and related industries for the ultimate benefit of the consumer.
Because we employ qualified trades-people and use the best parts and materials we are proud to offer you the following warranties:
LIFETIME WARRANTY on all panel and structural repairs, excluding rust repairs Spies Hecker Lifetime Warranty on paint refinishing (conditions apply)
Precision Panelwork Ltd will repair, free of charge, any defects in workmanship unless caused by unreasonable use, maintenance or care of the vehicle. This warranty shall be null and void if the repair is altered, adjusted or tampered with by any person not authorised by Precision Panelwork Ltd. E-mail:
Provide our customers with safe, efficient and quality repairs to their vehicles. Make the complete repair process hassle free for our clients; from claim submission, arranging courtesy vehicles, through to delivering the repaired vehicle.
Give our customers kind, courteous service, from a repair shop that is clean, organised and well-equipped. Develop a trusting relationship with every one of our customers.
Collision Repair Association
We are members of the Collision Repair Association
All Members must meet strict criteria for membership, and all repairs are covered by a Guarantee of Workmanship. We are a "Registered Structural Repair Centre".
If you've had a vehicle accident the following guide will help you manage the situation as best as possible.
If your vehicle is in the way of other traffic, put your hazard lights on and safely move your car to the nearest curb or verge.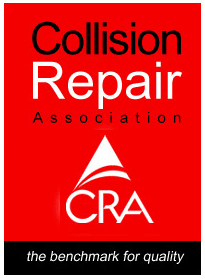 Check everyone in the vehicle/s are OK, if there are injuries dial 111 for an ambulance. Any injuries must be reported to the police within 24 hours. Also if there is a dispute, report it to the police immediately by dialling 111.
If there are any witnesses ask for their name and phone number and detail on the accident.
Assess the damage to your vehicle, is it safe to drive or should you call for assistance i.e. a tow truck?
If possible use a camera or mobile phone to photograph the damage or sketch a picture of what happened, and note any other relevant information.
You have the right to choose your repairer. You don't have to accept any repairer the tow truck company or your insurance company suggests; it will not affect your claim. Always look for a CRA approved repairer as this assures you that the repairer is reputable, competent and reliable.
Click the images below to visit our partner's websites for more information and to access insurance claim forms.